The Nature Conservancy-PERSPECTIVES: Restorative Aquaculture for Nature and Communities
KEY TAKEAWAYS: There is a pressing need to provide food for people within planetary limits—including new approaches that actively restore ecosystem health; A body of research conducted by TNC scientists and partners demonstrates that aquaculture can help restore ocean health, as well as support economic development and food production in coastal communities worldwide—if the right practices are deployed in the right places; A set of six clear principles and implementation roadmaps—agreed upon by scientists from leading organizations across the globe—now provides guidance to help industries, governments and communities develop aquaculture in a way that actually benefits nature; Ecological and economic studies show these benefits can be significant, and spatial analysis has identified the regions around the world most suited for restorative aquaculture. Taken together, this body of information shows how and where to get the most benefit from restorative aquaculture.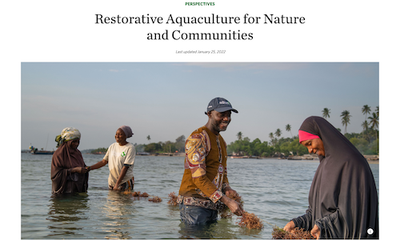 The Opportunity for Restorative Aquaculture
It's a long-held assumption that food production and environmental health are a zero-sum game. After all, food production currently accounts for nearly one-quarter of global greenhouse gas emissions, and 70 and 80 percent of freshwater usage and habitat degradation respectively. The ocean, meanwhile, faces unprecedented perils in the form of overfishing, coastal water pollution, and habitat degradation, including food production through fishing and aquaculture.
There's no doubt a nature-positive transition is swiftly needed across all our diverse food production systems. But a growing body of evidence is challenging the assumption that increasing food production will inevitably result in the degradation of nature. In fact, it's possible to produce nutritious food and actively contribute to the recovery of ecosystems at the same time.
Aquaculture is not only the fastest-growing form of food production—it can also be one of the most environmentally efficient ways of producing food. This is especially true for bivalves and seaweed, which are near-zero input forms of farming—their production requires almost no feed, freshwater or land and results in minimal greenhouse gas emissions.