SE Firemap
The SE FireMap is a new project whose mission is to develop an improved fire mapping system in Southeastern United States. The SE FireMap is envisioned as a remote sensing approach to track both prescribed fire and wildfire activity on public and private lands and serve as a critical decision support tool to maximize the effectiveness of fire management practices – helping achieve the varied objectives of NRCS and its partners such as keeping working lands working, restoring the longleaf pine ecosystem, supporting DoD's military and training mission, conserving listed and at-risk species, managing for wildfire risk, and minimizing the need to conserve species through regulation.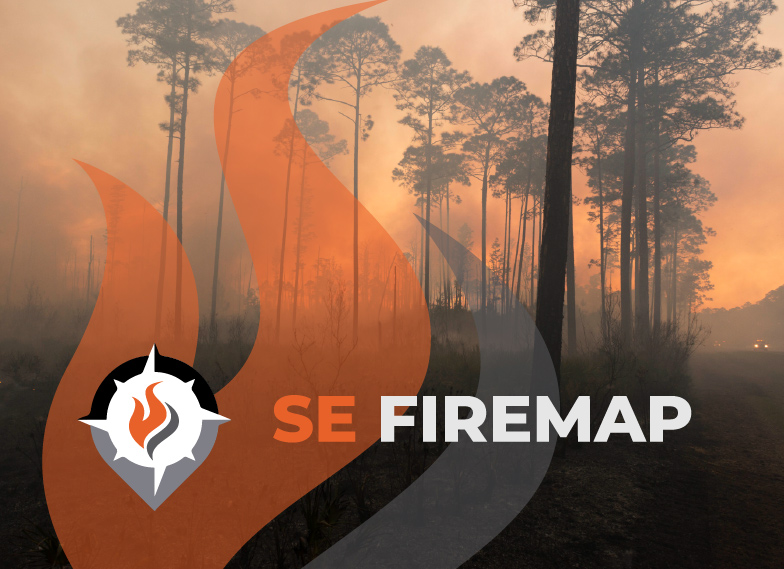 The SE FireMap project will be achieved through remote analysis of imaging data, supported by the collation of spatial data (when available) to document, track, and "ground-truth" actual fire activity. Achievement of a SE FireMap would allow USDA Programs, America's Longleaf Restoration Initiative, the Southeast Regional Partnership for Planning & Sustainability (SERPPAS), and other partners to identify under-served areas as they exist or emerge, and then prioritize deployment of technical and financial support as well as training. Project deliverables would include a "dashboard" for regional, state and local decision-making. With wildfire risk increasing, the importance of enhancing and expanding prescribed burn implementation is great, while both funding and fire crews are in short supply. Therefore, it is imperative that we and our partners have a reliable method to select priority geographies to manage natural resources and wildfire risk.
The current funding level is $1.3 M, available for the period 2019-2022 as an Above-States Initiative award from the USDA, Natural Resources Conservation Service to the U.S. Endowment for Forestry and Communities (Endowment) for assistance in management of the project. A sub award to the Longleaf Alliance (LLA) is supporting a project liaison, augmenting improved outreach, communication and technical assistance. To support the development of an effective tool, both integrating top science and crosswalking with current fire mapping efforts, a Technical Oversight Team (TOT) comprised of 10 fire mapping experts has been established via a Statement of Interest (SOI) circulated within the fire community. A determination of need for additional funds will be made once a final Scope of Work (SOW) and Budget is developed for the project. The SE FireMap's Scoping Phase is currently underway with a tentative completion date of November 2020, after which a Request for Proposals will be circulated by the Endowment for Forestry and Communities for product development. The SE FireMap will be available on this web portal once it is completed.