Gopher Tortoise Council Newsletter Summer 2019
In This Issue; Message From a Co-Chair; Announcements; Proposal Solicitations; Interview with a Herpetologist; In Appreciation of Dick Franz; Student Spotlight; Recent Research Citations; Education Corner; Georgia Joins in on Gopher Tortoise Day; Upland Snake Conservation Initiative Brochure.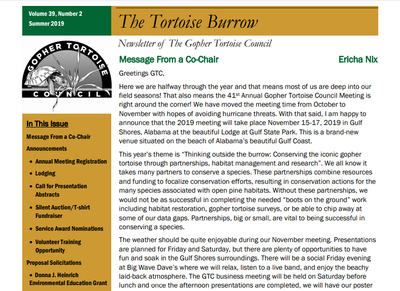 Message From a Co-Chair Ericha Nix
Greetings GTC,
Here we are halfway through the year and that means most of us are deep into our field seasons! That also means the 41st Annual Gopher Tortoise Council Meeting is right around the corner! We have moved the meeting time from October to November with hopes of avoiding hurricane threats. With that said, I am happy to announce that the 2019 meeting will take place November 15-17, 2019 in Gulf Shores, Alabama at the beautiful Lodge at Gulf State Park. This is a brand-new venue situated on the beach of Alabama's beautiful Gulf Coast.