Gopher Tortoise Council Newsletter-The Tortoise Burrow
The Tortoise Burrow is the Council's official newsletter and is published 3 times per year in April, August and December. The newsletter reports on current research on gopher tortoises, their commensals, their habitat and other upland conservation issues. Other features include Student Spotlight, Kids' Corner, recent research citations, coverage of special events and annual reports from all states in the gopher tortoise's range.
https://gophertortoisecouncil.org/education-outreach/64-newsletters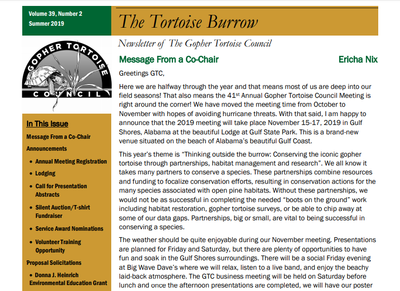 In This Issue; Message From a Co-Chair; Announcements; Proposal Solicitations; Interview with a Herpetologist; In Appreciation of Dick Franz; Student Spotlight; Recent Research Citations; Education Corner; Georgia Joins in on Gopher Tortoise Day; Upland Snake Conservation Initiative Brochure.