Endangered Species Act: A Practical Primer for Decision Makers, Biologists and Staff Specialists (May 2025)
This workshop covers policy, legal and administrative aspects of managing threatened, endangered and sensitive species.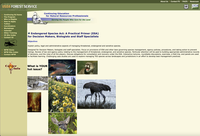 When

May 01, 2025 08:00 AM EDT

to


May 02, 2025 05:00 PM EDT

Where

TBD

Add event to calendar

vCal




iCal
Designed for Decision Makers, biologists and staff specialists.
Focus on provisions of ESA and other laws governing species management, agency policies, procedures, and taking action to prevent listings.
Review of law and agency policy relating to the management of threatened, endangered, and sensitive species.
Particular attention will be paid to building appropriate administrative records of decisions, and the roles of all the players.
Discuss obligations for consultation and recovery under the ESA.
Interactive lectures, roundtable discussions, exercises, a field trip, and panels are used to facilitate learning.
Challenging case studies are used to explore managing TES species across landscapes and jurisdictions in an effort to develop best management practices.
NOTE: Exact date is TBD.