Tennessee River Basin Network News March 2020
Your Network News - Cast your vote on TRBN priorities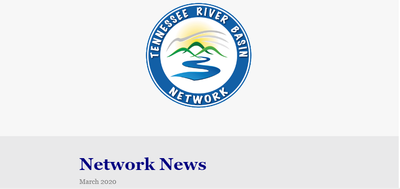 The TRBN Steering Committee had a productive meeting in Cleveland, TN last week. We welcomed some new faces to this meeting and are very excited about the areas of expertise these members will bring to our Network's leadership. Meeting minutes will be uploaded to our Network website soon.

Please take the time to help the Network identify shared priorities for 2020 by completing the brief survey HERE and also linked below. Your voice is an integral part to moving our Network forward.  AKA Aquatic Biodiversity's Super Tuesday!

We also would like to welcome the Boone Watershed Partnership as a new partner to the Network. Thanks for joing us! If you are interested in becoming a partner you can submit your inquiry HERE.
The Mission of the Tennessee River Basin Network is to inspire and empower the people of the Tennessee River Basin to effectively steward the region's aquatic biodiversity.
Partner Spotlight
Conservation Fisheries, Inc.
Conservation Fisheries, Inc. (hereafter, CFI) has been an engaged partner of the TRBN since the Network's inception in 2014. CFI is a non-profit based in Knoxville, Tennessee and is dedicated to the preservation of the region's aquatic biodiversity. CFI was the first facility in the Southeast to propagate rare, non-game fishes for recovery work. Co-Director, J.R. Shute, shares more about himself and his organization's role in conservation of aquatic life.
We Need Your Vote
Deadline: March 19th
The TRBN wants your vote on Network priorities! What should we discuss at our Annual Meeting? What should we work on collectively over the next year? Please fill out this brief (3 min.) survey to unite our diverse partnership in collective action this year.
Upcoming Webinar
Thrive Regional Partnership
March 25th @11am EST
Join us in hearing from members of the Thrive Regional Partnership on innovative collective action their partnership is pushing forward to protect aquatic biodiversity. Thrive Regional Partnership is a collaborative organization that unites people across the growing tri-state region to preserve community and natural character for generations to come.
Funding Opportunity
Deadline: May 1st
Any graduate students studying the connection between sustainable agriculture and aquatic life?  The southern region's Sustainable Agriculture Research and Education program under USDA is currently accepting proposals for their graduate student grant program. Learn More
Watershed Workshop
Hartselle, AL
April 15th
Topics include watershed systems (what they are and how they work), watershed quality (learn about water quantity and quality in AL), how you can improve watershed function, community driven watershed management, and local water related organizations.