Quail Forever Hires Lauren Stamm as Southwest Regional Rep
Quail Forever is proud to announce the hiring of Lauren Stamm as a regional representative in the southwest United States. In her new role, Stamm will provide support for dedicated members and volunteers throughout Arizona, Nevada, and New Mexico, working closely with local chapters to improve public and private lands conservation efforts for quail and other wildlife.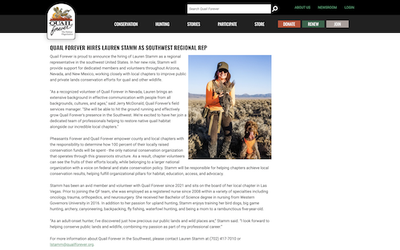 "As a recognized volunteer of Quail Forever in Nevada, Lauren brings an extensive background in effective communication with people from all backgrounds, cultures, and ages," said Jerry McDonald, Quail Forever's field services manager. "She will be able to hit the ground running and effectively grow Quail Forever's presence in the Southwest. We're excited to have her join a dedicated team of professionals helping to restore native quail habitat alongside our incredible local chapters."
Pheasants Forever and Quail Forever empower county and local chapters with the responsibility to determine how 100 percent of their locally raised conservation funds will be spent - the only national conservation organization that operates through this grassroots structure. As a result, chapter volunteers can see the fruits of their efforts locally, while belonging to a larger national organization with a voice on federal and state conservation policy. Stamm will be responsible for helping chapters achieve local conservation results, helping fulfill organizational pillars for habitat, education, access, and advocacy.