A Collaborative Approach to Restore Bog Turtle Populations
Like the bog turtle itself, bog turtle populations in North Carolina are very small. A collaborative effort between multiple conservation organizations hopes to change that by giving them a little help.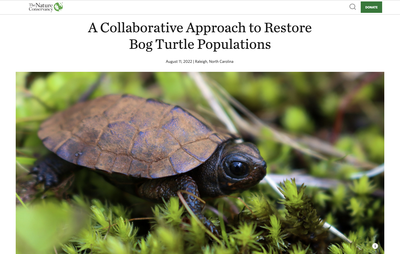 Last June, the N.C. Wildlife Resources Commission, The Nature Conservancy (TNC), U.S. Fish and Wildlife Service, Tangled Bank Conservation and Zoo Knoxville began a population augmentation process called head-starting. Head-starting involves raising turtles in captivity their first year to increase their size relative to wild hatchlings, thereby increasing their chances of survival in the wild upon release.
Head-starting is part of a much larger conservation effort for the bog turtle that includes habitat management and restoration, protection from unnaturally high-predation levels, collaboration with private landowners, addressing road mortality and land protection. Despite all these efforts, most populations are still in decline, and many have only a few adults remaining and even fewer or no young turtles, which is what prompted the Wildlife Commission to consider augmenting populations.