Northern Bobwhite, Grasslands & Savannas
Working Lands for Wildlife: Northern Bobwhite, Grasslands and Savannas
The Northern Bobwhite, Grasslands and Savannas Workspace is a private working group and is password protected for information sharing by technical experts within NRCS and among its partners. You must login or register with the provider to access the folders. Please use the Register button to request access. The workspace was funded for NRCS and its staff and partners to collaborate, store and share information.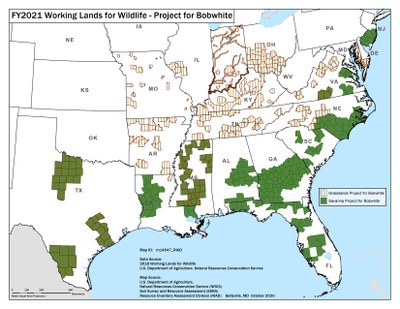 The 80% decline of the Northern Bobwhite (Colinus virginianus) is representative of trends observed in grasslands and savannas across the east and central U.S. Many wildlife species in these habitats are also in decline by up to 60% or more. At the same time, landowners growing row crops, running livestock operations, and managing timber are all facing increasing economic and climate-related challenges. WLFW seeks to address both conservation and economic challenges by working with producer groups to strategically apply conservation practices in each of these landscapes.
Many of the same practices that benefit bobwhite and other wildlife also improve economic returns and reduce risk in agroforestry operations. Certification of operational sustainability can gain producers access to "green" markets and increase return on investments. NRCS and partner staff can help producers identify these opportunities and Farm Bill program dollars can help increase sustainability to create these market advantages.
Research shows that closed canopy or unburned pine stands provide poor quality habitat for bobwhites, and other grassland species. These stands may also serve as ecological sinks (i.e. high predation rates) thereby reducing bobwhite survival, even on adjacent high quality habitats. When appropriately applied, forest thinning and frequent prescribed fire mimic the ecosystem processes that once occurred naturally across landscapes to create and maintain savanna habitats. Without thinning, tree canopies close and shade-out ground cover. Without frequent prescribed fire, grasses and forbs are replaced by woody plants and forest litter. Appropriately timed thinning and burns reduce hazardous fuels and potential economic loss while improving stand quality and overall forest health.
Working Lands For Wildlife Northern Bobwhite, Grasslands and Savannas projects focus on restoring grassland and savannas to create better wildlife habitat on working agricultural landscapes. In addition to quail, restoring this habitat type across savanna and grassland landscapes benefits numerous songbirds, rabbits, wild turkey, deer, and many other wildlife species.  Habitat management practices improve water quality, reduces soil erosion, and can enhance local economies by stimulating quail hunting and wildlife viewing. Practices will be directed at establishing and maintaining habitat for several at-risk species as well. These include pollinators, Gopher Tortoise, Red-cockaded Woodpecker, Bachman's Sparrow, Eastern Indigo Snake, Eastern Diamondback Rattlesnake, Pine Snake, and Pocket Gopher.
Content Link: NRCS Northern Bobwhite Quail Website