National Association of State Foresters Weekly Newsletter May 1 2020
This week in forestry and tree news is here!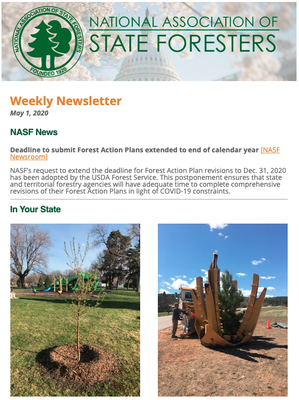 Deadline to submit Forest Action Plans extended to end of calendar year [NASF Newsroom]

NASF's request to extend the deadline for Forest Action Plan revisions to Dec. 31, 2020 has been adopted by the USDA Forest Service. This postponement ensures that state and territorial forestry agencies will have adequate time to complete comprehensive revisions of their Forest Action Plans in light of COVID-19 constraints.
In Your State
Arbor Day in South Dakota [SDPB]

(Audio) Nearly 600 essayists entered into an Arbor Day Essay Contest and at least two South Dakota communities marked the holiday with tree plantings (the City of Mitchell's tree is pictured at left, and the City of Sturgis' tree is on the right).

More from South Dakota:

Proposed change would slash timber industry, county official says [Rapid City Journal]