National Association of State Foresters Weekly Newsletter March 6, 2020
NASF launches NASF100.org, releases statement on Trillion Trees Act...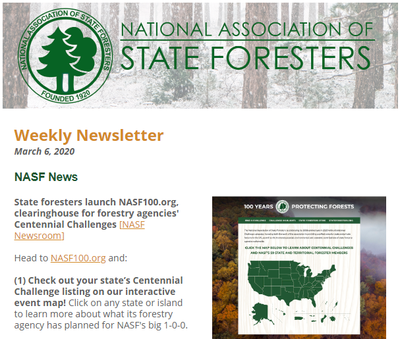 NASF News
State foresters launch NASF100.org, clearinghouse for forestry agencies' Centennial Challenges [NASF Newsroom]

Head to NASF100.org and:

(1) Check out your state's Centennial Challenge listing on our interactive event map! Click on any state or island to learn more about what its forestry agency has planned for NASF's big 1-0-0.

(2) Shop for new Smokey Bear products and a special-edition NASF Centennial poster (coming soon!) at the State Foresters Store. NASF will be offering five (yes, five!) new products (including air fresheners, stickers, drinking glasses, and more) in our store by the close of March.

(3) Get social on Facebook, Twitter, and Instagram. There are two official hashtags for the NASF Centennial Challenge: #NASF100 and #CentennialChallenge. Anyone can track the progress states and territories are making on their Centennial Challenges by following these hashtags or @stateforesters on social media.
Upcoming Forest Action Plan webinar: Communicating national messages and utilizing NASF statistics [Adobe Connect]

On March 10, from 10:00-11:00 am EDT, NASF Communications Director Whitney Forman-Cook will lead a webinar on communicating about Forest Action Plans. Click here to register and tune in at the link above.
NASF statement on the Trillion Trees Act (HR 5859) [NASF Newsroom]

NASF appreciates the leadership of Representative Bruce Westerman (R-Ark.) in introducing the Trillion Trees Act (HR 5859) and recognizing forests and forest markets as environmental and economic solutions.
California had its driest February on record. Here's how bad it was. [Las Vegas Sun]

But this February "was not just merely a below-average month. It was, in a lot of places, a completely dry month, which is truly extraordinary."

More from California:

200 firefighters respond to California brush fire that has forced residents to evacuate [Firefighting News]

Wildfire spreading in Yuba County in Tahoe National Forest, US Forest Service says [Herald-Mail Media]

California may need a 'Miracle March' to prevent an early and dangerous wildfire season [Pinal Central]

Shasta Uplands Subdivision Fire Safe fuelbreak project is result of grant funding [Taft Midway Driller]

Sierra Nevada Conservancy awards funding to four projects in Nevada County [Yuba Net]