Landfire Postcard November 2019
As 2019 winds down, LANDFIRE offers a sincere thank you to all who contributed to the program this year. LF is a cornerstone of a fully integrated national data information framework that is developing and improving vegetation and fuels products to support strategic fire and resource management planning and analysis.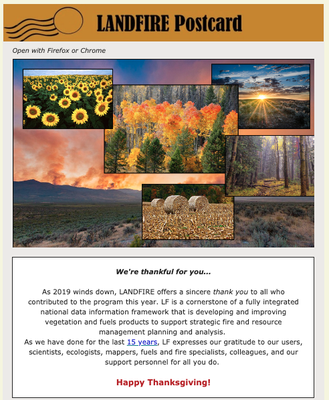 LF REMAP PRODUCTION IS AHEAD OF SCHEDULE
North Central GeoArea Products Released
LF Remap, the comprehensive mapping effort to create a new base map data suite representing 2016 ground conditions, met its 2019 product release schedule a little early with the North Central GeoArea products. This area was released early in November, bringing the total of on-time products to four GeoAreas, including the Northwest, Southwest, and South Central regions.