Southeast Climate Adaptation Science Center April 2022 Newsletter
Welcome to the Southeast CASC April 2022 Newsletter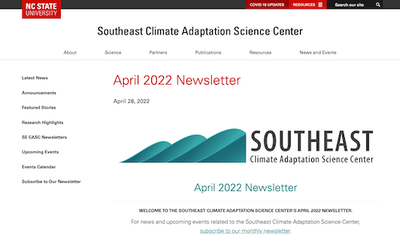 Southeast Climate Adaptation Science Center News
Save the Date! The 2022 SE CASC Regional Science Symposium is scheduled for Sept. 19-21, 2022. Registration and call for abstracts for the Poster/Tools Networking session will open in May.
We're excited to announce the exceptional students from diverse disciplines and colleges at NCSU selected as 2022-23 SE CASC Global Change Fellows. Learn more about them.
Join us on May 10, 12 PM ET for a virtual Science Seminar by Erin Seekamp (NC State University) and James Flocks (USGS), Prioritizing and Implementing Research for Adaptation Planning at Gulf Islands National Seashore. Learn more and register.