American Fisheries Society Newsletter July 2023
Hutton Summit, Grand Rapids Hotel Deadline, Reef Fish Survey Design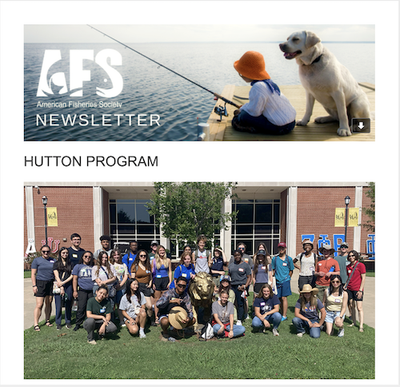 HUTTON PROGRAM
This year, the Hutton Junior Fisheries Biology Program held its Third Annual Summit for Hutton Scholars at the University of Arkansas Pine Bluff. Twenty-nine scholars enjoyed three days of programming, including field work, tours, lectures, and a career panel.
As a reminder, the Hutton Funding Challenge 4.0 is currently underway, with a goal is to raise $5,000 for the Hutton Program by August 23rd. All donations will go directly to the Robert F. Hutton Fund to support the placement of more high school students in internships for the summer of 2024.
ANNOUNCEMENT
Volunteer Committees Now Forming for 2023-2024

Gain valuable leadership skills while helping shape the future of your Society! We are now in the recruiting window for volunteers for 2023-2024 committees. Committee work includes topics such as communications, awards, ethics, policy issues, membership, financial planning, and diversity, equity, and inclusion, among others. Browse the full list.
MEETINGS
Hotel Rooms Still Available in Grand Rapids
Some hotels are now fully booked for the 2023 Annual Meeting in Grand Rapids, but we have added more rooms at the Hyatt Place and Holiday Inn. Booking within the AFS room block gives you the peace of mind that you are getting a great conference rate while staying at a vetted property nearby the conference venue. Book your room by July 27!
SCIENCE
Integrating Assemblage Structure and Habitat Mapping Data into the Design of a Multispecies Reef Fish Survey
Data from reef fish video surveys were analyzed to develop a new survey design in the Gulf of Mexico. The new design provides better estimates of reef fish abundance from natural and artificial reef habitats and will improve the assessment and management of multiple reef fishes.
FISHERIES
The Importance of Mentoring and Networking for Mid-Career Professionals
Over the past few months, we have been highlighting the importance of engaging students and early career professionals in the fisheries field. In this month's column, I'd like to focus on our mid-career professionals. Oftentimes overlooked, this segment of our workforce may be faced with challenges not experienced during the early career or near-retirement years.
The Wonders of the Mekong Project Shows Both the Wonders and Conservation Challenges of the Mekong River
"The Mekong River is the lifeblood of this region, and it has been for centuries, providing food and income for many of the 70 million people living in the basin," says Zeb Hogan, a fish biologist at the University of Nevada, Reno, who co-leads Wonders of the Mekong.
RESOURCES
EVENTS: See upcoming AFS and other fisheries events in our Events Calendar
CAREERS: For the latest JOBS postings from around the U.S. and Canada
PRODUCTS AND SERVICES: Visit our searchable Center for Fisheries Technology and Collaboration to find the latest fisheries equipment and technology
Keep up with the latest news, get involved, and build your fisheries career.
Your donations to the American Fisheries Society enable us to advance science and conservation through varied programs and activities. Donate today.
Editors: Beth Beard, Peter Turcik
Please submit story ideas to: Beth Beard
AFS is a 501(c) 3 nonprofit organization. All contributions are tax deductible to the full extent permitted by law. For more information about donating to AFS, visit https://fisheries.org/donate.