American Fisheries Society Newsletter November 2022
Special Fisheries Issue on Citizen Science, Perspectives on Salmon Enhancement, Trojan Brook Trout.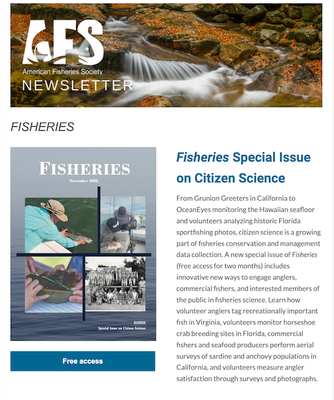 FISHERIES
Fisheries Special Issue on Citizen Science
From Grunion Greeters in California to OceanEyes monitoring the Hawaiian seafloor and volunteers analyzing historic Florida sportfishing photos, citizen science is a growing part of fisheries conservation and management data collection. A new special issue of Fisheries (free access for two months) includes innovative new ways to engage anglers, commercial fishers, and interested members of the public in fisheries science. Learn how volunteer anglers tag recreationally important fish in Virginia, volunteers monitor horseshoe crab breeding sites in Florida, commercial fishers and seafood producers perform aerial surveys of sardine and anchovy populations in California, and volunteers measure angler satisfaction through surveys and photographs.
POLICY
Last Chance for Recovering America's Wildlife Act in this Congress
We are in the final sprint to pass the Recovering America's Wildlife Act. Congress has briefly returned to Washington and will wrap up in mid-December. This is our last chance to get the bill across the finish line and secure dedicated, proactive funding for states and tribes to keep fish and wildlife from sliding into extinction. We have come so far with your help - join us in this final mile. Sign this petition today calling for the Senate to pass the Recovering America's Wildlife Act NOW .