Aquatic Subteam Meeting 06-27-2014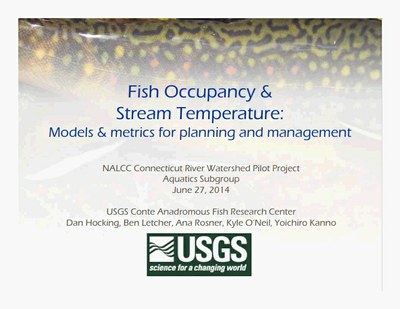 Fish Occupancy & Stream Temperature: Models & metrics for planning and management. NALCC Connecticut River Watershed Pilot Project, Aquatics Subgroup, June 27, 2014.
Aquatic ecological macrogroups used in the Connecticut River Landscape Conservation Design project. Summary statistics for each group, and a weighting multiplier affecting conservation priorities (2 pages).
Aquatic System Intactness (aka stressor) and Resiliency Metrics. Used in the index of ecological integrity portion of the Landscape Change, Assessment, and Design (LCAD) model (1 page).