National Association of State Foresters Weekly Newsletter May 8 2020
Season heating up out West, in full force down South...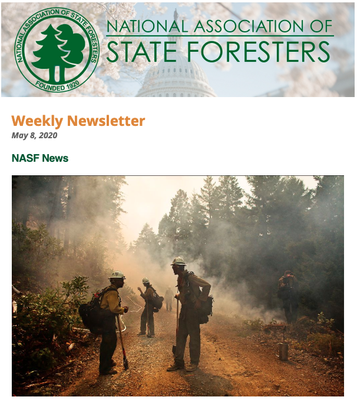 Why InFORM is your solution for wildfire reporting [NASF Blog]

InFORM drastically streamlines the business of wildland fire reporting. Not only does InFORM eliminate redundant data entry, it also improves the quality, completeness, and usability of that data.
Former state foresters co-write history of Delaware's forests [NASF Blog]

Bob Tjaden, a native Delawarean and forester with the University of Maryland, co-wrote Beneath the Canopy with the late Walt Gabel based on their shared appreciation for Delaware's rich forest history, old photographs, archival documents, and oral histories.
In Your State
From Texas: May the forest be with you during COVID-19 and beyond [Texas A&M Forest Service]

(Press release) Even through the coronavirus pandemic, there's one underlying constant, or force if you will, that touches and protects us all. It's our unsung hero: the forest.

More from Texas:

Precinct 4's Kissing Tree named 'Famous Tree of Texas' [The Tribune]

(Press release) Texas A&M Forest Service urges citizens to prepare their communities for wildfire season [Texas A&M Forest Service]

Why are trees in North Texas so much shorter than those in other areas? Curious Texas investigates [Dallas Morning News]

(Press release) Escape and connect with Texas A&M Forest Service podcast [Texas A&M Forest Service]
In Arkansas: City of Hot Springs lifts burn ban [Sentinel-Record]

The burn ban inside the city of Hot Springs has been lifted, joining the growing list of restrictions that have been eased as the area and state's number of new COVID-19 cases has slowed in recent weeks.