National Association of State Foresters Weekly Newsletter July 3, 2020
NASF releases COVID-19 stimulus platform, backs bill to improve GNA...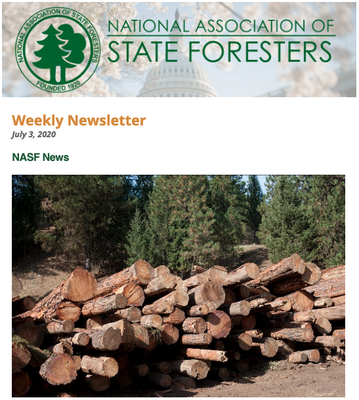 State foresters release top priorities for COVID-19 stimulus package[NASF Newsroom]
Amid COVID-19, an ailing national economy, and a substantial backlog in federal forest management and rural infrastructure maintenance, the nation's state foresters have put forth a policy platform designed to bolster the forestry supply chain in the U.S.
Looking for a direct link? NASF's COVID-19 stimulus platform lives here on our website.
---
State foresters back bill to improve Good Neighbor Authority[NASF Newsroom]
Wildfire, pests, and disease are landscape-wide forest threats that must be addressed at the landscape scale. Improvements to Good Neighbor Authority will help state, local, tribal, and federal agencies work together—across boundaries—to tackle these threats with active forest management.
---
State foresters submit comments on SFI Standards Revision Process [NASF Newsroom]
SFI certification is a vital tool for ensuring sustainable forest management while supporting forest markets. Without a doubt, the state forestry agencies, organizations, and companies who hold SFI certification are crucial to keeping forests as forests in the U.S.