Conservation Corridor March 2020 Newsletter
Human-assisted migration for the genetic rescue of small populations; How do you build a corridor for invertebrates?; Human land use reduces climate connectivity; In the News; Current Digests; Useful Links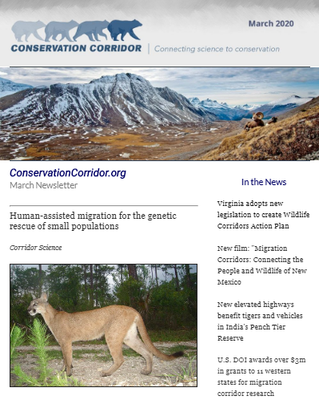 Corridor Science
How do we best manage small and fragmented populations? Human-assisted migration is a potentially powerful management strategy for the purpose of introducing new genetic material.
---
Corridor Management

While we often think about corridor design for large, far-ranging animals, less attention is paid to how we ensure that populations of invertebrates stay connected.
---
Climate Change
A new analysis of climate corridors across North America shows that incorporating human land use into projections significantly alters estimates.
---
In the News
Website
Twitter
Facebook
Email